Alfred A Knopf, New York 2011
Memoir, Biography

Themes of: death, illness, aging, motherhood
Reminds Me Of:
The Year of Magical Thinking
, also by Joan Didion,
White Oleander-
Janet Fitch,
A Wedding in December
&
Light on Snow
by Anita Shreve

Joan Didion's husband of 40 years has died. Less than two years later, their only daughter followed. Th
en, Didion's own health begins to deteriorate. What's left is the opportunity to make art from her sorrow. In the face of such tragedy, even her words falls short, but they leave readers with the promise that it's possible to confront mortality with bravery, dignity and curiosity.

Didion's descriptions glitter in your mind, images of New York City in the twilight and California blossoms in the dusk. There is champagne and watercress sandwiches, jazz, movie stars and poetry. Designer names and fashionable places dot the pages like discarded jewelry. Hers seems like a luxurious, jet-setting life; between it and the horror of the events described, there is an outspoken contrast. It speaks of our carelessness towards life, which becomes more precious when we confront death.

Didion, the su
rvivor, agonizes over what she could have done differently for her daughter. She explores the fears of motherhood and her conclusion is unique:



Yet there were always dangers to children.




Ask anyone who was a child during the supposedly idyllic decade advertised to us as the reward for World War Two. New Cars. New appliances. Women in high-heeled pumps and ruffled aprons removing cookie sheets from ovens enameled in post-war "harvest" colors: avocado, gold, mustard, brown, burnt orange. This was as safe as it got, except it wasn't: ask any child who was exposed during the postwar harvest fantasy to the photographs from Hiroshima and Nagasaki, ask any child who saw the photographs from

the death camps. (Didion, 98)
She goes on to talk about Suzanne Degnan, a child kidnapped and killed in 1946, a JonBenet murder in a period when such things (supposedly) never used to happen. This in lieu of the stereotypical lament about how the world has changed for the worst. Didion is too honest for such self-delusions.

She confronts her own own mortality as she battles a feeling of frailty. She gets shingles. She falls, injures herself and wakes up covered in blood, not even knowing how it happened, realizing that she is finally "old". It's as if Didion were observing her life through a window. She's there t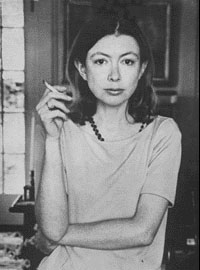 o take notes, to try to make sense of it all.


The book's title comes from twilit evenings in the city, just before night falls.
L'heure bleu
. The "gloaming". A long period of blue light before the day ends forever:

"This book is called

Blue Nights

, because at the time I began it, I

found my mind turned increasingly to illness, to the end of promise, the dwindling of days, the inevitability of the fading, the dying of the brightness. Blue nights are the opposite of the dying of the brightness, but they are also its warning." (Didion, 4)



Actress Diana Lynn, a family friend of Didion's, figures prom-
inently in her memories.